FAQ: How do I change MIDI channel and Parameters (or voices) on my iKeyboard X and S?
The 'program' button has two functions; changing the MIDI channel and, also, parameters (or 'voices').
Press once, so it is solidly lit. This will change the parameter or 'voice' of the iKeyboard when connected to a MIDI source.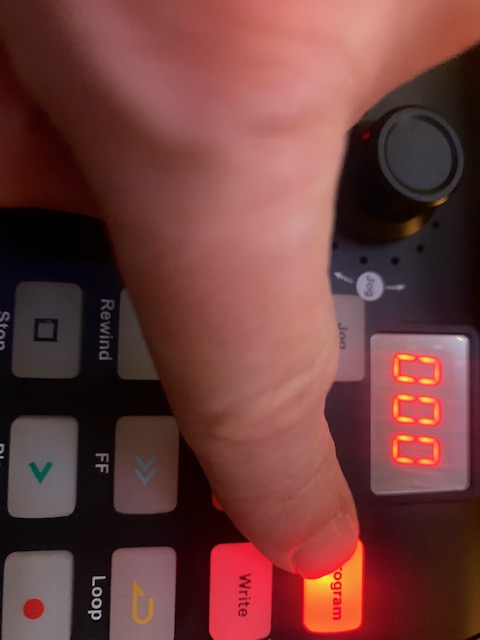 Let's use a real world example; Kai.
Kai has connected their iKeyboard to their computer and is using Cubase.
Kai is going to add a 'MIDI' channel to their latest Cubase project. Associated with this is a General MIDI library of sounds, (GM) as will be the case for other DAWs. As Kai navigates through the sounds using their jog wheel, various instrument voices will be heard when pressing the keys i.e. a pan flute and a rock organ. Kai could equally well be using an external sound module which feature these GM sounds – the same 'menu' of voice will be present, in the same order.
Below is a list of each 'instrument sound' in the library and their respective numbers.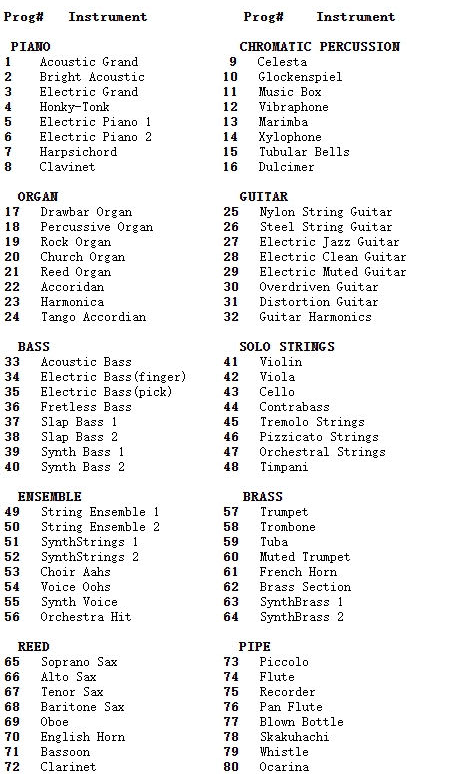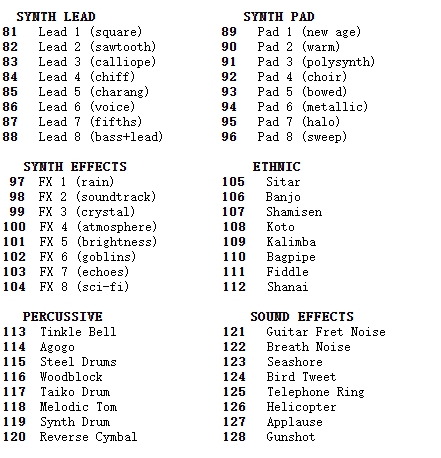 These are reflected in the numbers on the ikeyboard as Kai scrolls through. Or are they?
You may have noticed that the numerical value only extends to 127 on the iKeyboard as you progress through to the uppermost value, not 128 as there are in a GM library. Why might this be, you may ask.
Because MIDI modules of all kinds count zero as a number, this means that 0 becomes 1 and 1 becomes 2, 2 becomes 3 and so on. In essence, therefore, when viewing the instruments voices and their MIDI parameter values, Kai has to count one less i.e. the orchestra hit is not 56, but 55. A koto sound is not 108, but 107.
Let's take another example of how to use this functionality;
Kai is out on the road, touring with their band, 'The Icons'. Kai is using his iKeyboard which is connected to a laptop running a piano virtual instrument, which is in turn connected to an audio interface, connected to the PA.
Whilst using this individual standalone piano virtual instrument, (i.e. outside of the DAW), Kai may also browse and select the different available variants of the instrument.
Kai may navigate using the jog wheel to 1. Standard Piano for one song within the instrument, to 11. Bright Pop Piano for the next song all the way to end of the available preset piano voices to 30. Introspective Ballad Piano for the final, reflective song.
These preset voices don't start at zero (necessarily) and end at 128, because these are not general MIDI libraries – rather, specific virtual instruments that may have a number of preset variants that can be easily accessed – in this case, 30, (there may be more – sometimes many more!). Also, it should be noted that not all virtual instruments are as user friendly in this way or indeed set up for stand-alone use.
To change MIDI channel, simply press the Program button twice so that it is flashing and scroll through the available MIDI channels (a total of 16) with the jog wheel, pressing the button down again to select the channel of your choice and exit.
It is worth noting that an individualized MIDI channel cannot be allocated to pitch and modulation (controlled via the wheels) and sustain and expression (controlled via pedals) by the iKeyboard itself. These changes would need to be made in the iMAP i.e.